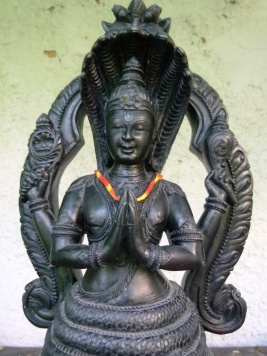 Welcome to Hannover
(Capital of Lower Saxony), November, 2011


Please send your comments or offerings, or anything you think should be included.
If you notice that a phone number listed in this guide doesn't work or becomes redundant,
let us know. If you can clarify any of this information, i.e.,
you can complete an address, or you notice that an address has
changed, please notify us.

Heartfelt thanks also to any future contributors who help to keep this resource alive and relevant.


Namaste,
Shiv Kumar Joshi / www.shivyog.de
Deutsch-Indische Gesellschaft e.V., ZG Hannover
www.dighannover.de




FLIGHTS / AIRPORT
Hannover Airport offers air connections to many European capital cities and regional metropolises.
Getting/coming to/from the Airport is possible by S-Bahn (train)
or by bus. When using the more convenient
S-Bahn to/from Hannover main railway station, buy and stamp your ticket
at one of the ticket machines before taking the train.
It takes from Airport direct to the Hannover Railway Station approx. 18 minutes by S-Bahn (train)
There is also a taxi service available from airport.
For more information, http://www.hannover-airport.de/ (Info also in English)



RAILWAYS
RAILWAY STATION
Railway Station / Hauptbahnhof Hannover
Region Niedersachsen/Bremen
Ernst-August-Platz 10
30159 Hannover
++0049-511-286 - 44 83

It is a railway crossing for the most important north-south and east-west
connections of Deutsche Bahn in Germany.
The railway station is located in the city center
and has also a shopping promenade.
Especially on sundays (feast day/holiday in Germany) groceries,
restaurants and health shops in the promenade are open.

The local-trains (U/S-Bahn) are available from Hannover Central Railway Station
to different parts of Hannover.


REGISTRATION OFFICE
Foreign Registration Office / Ausländeramt in Hannover
Leinstr. 14
30159 Hannover
Telephone
0511/168-0
Fax
0511/168-41190
Office hours :
Monday/Tuesday 8.30 - 13.00 hrs.
Wednesday closed
Thursday 8.30 - 13.00 hrs und 14.00 bis18.00 hrs,
Friday 8.30 - 12.00 hrs.

GETTING AROUND HANNOVER
Hannover with Bicycle
Bicycle is the best and most economical way to get around Hannover.
One can buy second hand bicycle from Flea-Market (Flohmarkt).
It takes place every Saturday from 0700 hrs to 1600 hrs.
Address:
Flohmarkt Hannover
Am Hohen Ufer 1
30159 Hannover
Please make sure that you purchase a bicycle only with a receipt.

Some cycle-shops sell also second hand bicycles and of course new cycles too.


Hannover with trains (Stadtbahn)
If you are in Hannover only for one day, then one can purchase day-ticket.
In case of group of persons, one can purchase group day-ticket. It is very economical.


Small trips in Lower Saxony with trains
If you want to visit other parts of Lower Saxony or
If you want to make day trips in Lower Saxony,
Niedersachsen-Ticket: is the best up to 5 people per day.
(price Niedersachsen-Ticket from automaic machine : 1 Person 21 Euro, 2 Personen 25 Euro,
3 Personen 29 Euro, 4 Personen 33 Euro, 4 Personen 35 Euro, 5 Personen 37 Euro-
If one purchases the ticket from counter, then one has to pay 2 Euro service charges
- status in November 2011)
The ticket is valid Monday through Friday on a day of your selection
from 0900 hrs. to 0300 hrs. the next day, on weekends and public holidays
throughout the day from 0000 hrs. to 0300 hrs. the following day.
Please enter your Family-name and first name in the box provided on the ticket
before the trip.

Longer trips to other parts of Germany with train or Car-Sharing
It is better to book the train ticket 2/3 months before one´s journey,
if one wants to get very good prices. The booking can be done by internet.

Link for German Railway Booking in Internet in English
http://www.bahn.de/i/view/GBR/en/index.shtml

Car-Sharing facility is much cheaper option.
http://www.mitfahrgelegenheit.de/mitfahrzentrale/Hannover.html

http://www.mfz.de/mitfahrzentrale/ab_Hannover.html



CURRENCY AND BANK INFORMATION
The currency in Germany is Euro.
Major establishments such as hotels, department stores, airlines etc
accept Master card and Visa credit cards.

When one opens an account in a bank, every bank issues a bank card (EC-Card).
With this card you can pay in all shops, no need to carry big cash at all times.

There are foreign exchange offices at the Hannover airport and
Hannover central station.

TELE-COMMUNICATION
Domestic information 11833
International information 11834

Emergency telephone numbers
Police 110
Fire brigade 112
Emergency / Ambulance 112

Taxi (Hannover) 3811

From Germany call to India e.g. : 0091-11-
One can use Jumblo for voip call to india at cheap rate.



TIME
India is three and half hours ahead (in summer).
India is four and half hours ahead (in winter)
For more information, please read the following topic 'The rules of daylight savings time'.

The rules for daylight savings time
For the summer time : The change of time takes place on the last Sunday in March.
The clock is advanced by one hour. (from 0200 hrs. to 0300 hrs.)
This means: "The night is one hour shorter."
For the winter time (standard time) : The time change takes place the last Sunday in October.
At 3:00 clock, the clock is put back by one hour. This means: "The night is an hour longer."



POWER SUPPLY
They use 220 V. The plug points are 2-pin with rounded ends.
Bring adapters for any electrical appliances that you bring with you.



HEALTH
One must be medical insured when one comes to Germany e.g tourist medical
insurance. The treatment is very expensive if one is not medical insured.

When you stay for long period, then one must get medical insured.
There are many medical insurance companies.


Health Insurance information for students


MEDICAL INSURACE COMPANIES
AOK - Die Gesundheitskasse für Niedersachsen
Hildesheimer Straße 273
30519 Hannover
Telefon: 0511 8701-0

KKH - Kaufmännische Krankenkasse, Hannover
Karl-Wiechert-Allee 61
30625 Hannover
Telefon: 05 11.28 02-0
http://www.kkh.de/index.cfm?pageid=3438 (Info also in English)

Techniker Krankenkasse
Bramfelder Straße 140
22305 Hamburg
Tel. 0800 - 285 85 85 (free of charge in Germany)
Techniker Krankenkasse
in Hannover:
TK Hannover-City Center
TK Hannover-Campus



LADY DOCTOR / GYNECOLOGIST
In Hannover, there is also a Indian lady doctor, Dr. Kundu.
Dr. Kundu is specialist in Gynecology and Obstetrics.
She speaks also English.

Dr. Subhra Kundu
Fachärztin für Gynäkologie und Geburtshilfe
Roderbruchmarkt 12
30627 Hannover
Telefon: 0511/575005

CHILDREN´s HOSPITAL
Kinderkrankenhaus auf der Bult
Janusz-Korczak-Allee 12
30173 Hannover
Telefon: 0511 / 8115 - 0
Emergency Service also available



LANGUAGE
If one is going to stay for long period, it is better to learn the language.
Mostly young German students are fluent in English.

There are two Govt. recognized institutes where one can learn German.
The fees are very reasonable, so that everyone can afford it.

Bildungsverein
Wedekindstr. 14
30161 Hannover
Telefon: 0511 / 344 144
www.bildungsverein.de

Volkshochschule Hannover
Theodor-Lessing-Platz 1
30159 Hannover Tel.: 0511 /168 - 44783 www.vhs-hannover.de

These institutes offer different courses in foreign languages,
philosophy, religion, society, economy, countries and cultures,
architecture, media, art, music, theater, literature, health, self-awareness,
personality development, eating and drinking, communication, computer,
vocational, cultural and political education.

Crash courses in German language are also available at
Carl Duisberg Centren



LIBRARIES
It is advisable to students/researchers to become the member of library
The fee for the membership is very reasonable.
Stadtbibliothek (Stadt/City und Bibliothek/Library)
Hildesheimer Straße 12
30169 Hannover
Tel.: +49 511 16842169
Office hours
Mo - Fr: 11 - 19 Uhr
Sa: 11 - 16 Uhr

This is the central library.
There are other branches of this library in different parts of city.
The same membership is also applicable to other branches.



SHOPPING
Rossmann - Cosmetics etc. reasonable price
Rossmann Filiale
Ernst-August-Platz 7,
30159 Hannover
Tel. 0511/329081

Liebe - the world of beauty and fashion
If you want to purchase body lotion or perfume for your wife,
Then this is the right place:
Liebe
Karmarschstrasse 25
30159 Hannover
Tel. 0511-30 4711

Mall in Hannover
Ernst-August-Galerie Hannover
Ernst-August-Platz 2
30159 Hannover
Tel.: +49 (0) 511 169968 - 0



GIFTS AND CLOTHES
GALERIA KAUFHOF
Ernst-August-Platz 5,
30159 Hannover
Tel. 0511 3601-0

Karstadt Hannover Sport
Große Packhofstr. 31/33 ,
30159 Hannover
Tel. 0511 3050



BOOKSTORES
Schmorl & von Seefeld
Bahnhofstraße 14
30159 Hannover
Tel: 0511-3675-138



ELECTRONICS
Saturn
Ernst-August-Platz 3
30159 Hannover

Media Markt
Vahrenwalder Str. 211
30165 Hannover

Conrad Electronic
Goseriede 3
30159 Hannover
Tel: 0180 5564445




FOOD
Indian Food

Kohinoor Dhaba
Hildesheimer Straße 85
Hannover
Tel: 0511/95 483 483
- friendly service, Samosa and Mango Lassi very tasty

Himalaya - The Indian Restaurant
Restaurant Himalaya
Postkamp 18
30159 Hannover
Tel: 0511 - 13 16 019


Restaurant in Center
If you want to go for food with your business partner, then Mövenpick
is the right address.
The Ice-Cream of this restaurant is also very famous and tasty.
Mövenpick Restaurant
Hannover Kröpcke
Georgstr. 35
30159 Hannover
Tel. +49 511 326 28 40

INDIAN SHOPS
In these shops you can purchase all sort of pulses (dal), atta,
basmati rice, spices, mangoes and fresh vegetables (e.g
Karela, Bhindi, Ghia etc……)

Vinay Vermani
Indian spices and specialities
Höltystr. 1 / Eingang Marienstraße
30171 Hannover
Tel.: 0511/363 17 11

Asia Afro Angadi
Vahrenwalder Str.175
30165 Hannover
Tel. 0511/3574280


SUGGESTED CHECK LIST FOR HANNOVER
- Warm Jacket ( specially in Autumn and Winter).
- Winter Shoes ( specially in Autumn and Winter).
- AC adaptor with converter. This can also be purchased in Hannover
- Medical Insurance Policy



TIPS FROM INDIAN
It is different culture and weather. The habits are also sometime different.

Always be punctual.

Always make a call before you visit someone.

Be straightforward.

Please exchange your ideas. The good ideas are mostly welcome.
The teamwork is also much appreciated.

If you are invited as a guest and want to take a gift for your host.
You can choose one or more from the following items as gift :
Pralines from Lindt, Flowers-bouquet and a bottle of Red Wine

Try to be quite at home between 13 hrs. and 15 hrs. It is rest time.

Please do not use drill machines or loud machines at home on Sunday.
Sunday is also considered as rest/quiet day.

Usage of pressure cooker whistle sound constraints in apartments

Sunday all shops closed - no shopping options,
but some shops are opened under the central railway station.

If you want to celebrate a party on Friday or Saturday evening
and you are living with other people/apartments in a house.
It is better to write a notice two or three days before that
you are celebrating at your home.
'Wir feiern am __ .__ . ____ und wir bitten um Verständnis, wenn es etwas laut wird.
Vielen dank im Voraus für ihr Verständnis.'
(Please fill up the blank with date of celebration)
The meaning of this notice in English is :
"We celebrate at __. __. ____ And we ask for understanding, if it gets a little loud.
Many thanks in advance for your understanding. "



TRANSLATION
My name is Rama Krishna.
Mein Name ist Rama Krishna.

I am from India.
Ich komme aus Indien.

I am an Indian.
Ich bin Inder.

I am a student.
Ich bin Student.

I am strictly vegetarian.
Ich bin streng vegetarisch.

I do not eat fish, meat and eggs.
Ich esse kein Fisch, Fleisch und Eier.

Is the food vegetarian?
Ist das Essen vegetarisch?

I do not drink beer or alcohol.
Ich trinke kein Bier und keinen Alkohol.

Where is Railway Station?
Wo ist der Bahnhof?

Busstand = die Bushaltestelle
Airport = der Flughafen

Where is shopping center?
Wo ist das Shopping-Center?

Where are the toilets?
Wo sind die Toiletten?